Posts tagged
Scrap Car Boston

Scrapping Cars in Boston
Are you looking for a place to scrap your car in Boston? Well then you have come to the right place! Welcome to Junk Car Boston, where we send a tow truck to your house and pay you cash for your scrap car. It doesn't matter if your vehicle is trashed, wrecked, junk, rusty, or whatever. We pretty much will take almost anything.
When you call us, we will give you a price quote over the phone of what we can pay you for you car/truck. Then we will schedule a pickup with you so that you know when we will be coming out to meet you for the vehicle. When the scheduled time comes we will give you a "heads up" phone call so that you know we are on our way.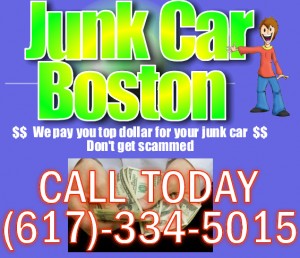 When we get there, you will point out to us the evil car that you want to scrap in Boston. Then we will have a piece of paper for you to sign. After you sign it, we hand you cold, hard, green, yummy cash. Everyone breaks out dancing and we throw a huge celebration. All the neighbors come out from hiding and congratulates you on your great achievement of scrapping your car. Its a beautiful moment in history. There is laughing, crying, and so so so much joy. Its the start of your new scrap free life.
So whenever you think that you may want to scrap your car in Boston, or a friend at work talks to you about a junk vehicle that they need to get rid of…you can give them a gift; our number on piece of paper, wrapped tightly with a rubber band and put in a box wrapped with a bow; the ultimate gift for anyone who owns any type of vehicle. We make scrap vehicle dreams come true.
That is what we do here, we give people money for their cars, it doesn't matter the condition,we will purchase it from you.  No more rusty bucket scrap heap on your lot or trailer park, wherever the car is located, it doesn't matter we will come get it from you.
That is the best thing you have heard all day, isn't it? We do guarantee the most cash in town and we will pick it up for free.  How is that not the best thing you have heard all day.  We will come pick it up for free and pay you the amount of cash that we offered you over the phone. The idea is to give us a call so that we can get you money today!
You can call us anytime, if no one answers then just leave some details about you and your car. We will call back ASAP and make sure you get taken care of. You can also get an awesome free online quote. You can get a call, txt, or email. You choose how you would like us to send your quote to you. Its amazing and fun.
Call us today! We are super fun.
(617)334-5015